Meet Our Guides and Staff
Chris Lewey
Chris Lewey, Executive Director and Founder of RAVEN Interpretive Programs, holds a Masters Degree in Environmental Studies from Antioch University. His graduate field work included research on NH's threatened Osprey population. He has led tours and programs for RAVEN, as well as such organizations as the Maine Audubon Society, Smithsonian Study Tours, Road Scholar, Tauck World Discovery and the National Wildlife Federation.  
Chris 
has taught ornithology for the National Audubon Society
 at their Hog Island ecology camp on the coast of Maine, where he was the Director of their Joy of Birding and Breaking into Birding programs for many years. Chris has led  EduTrips for the Mount Washington Observatory to the summit of the Northeast's highest peak, home of "The world's worst weather". A native New Englander and licensed Maine Guide, Chris is very much at home on the coast or in the mountains where his fascination with wildlife and conservation is enthusiastically shared.  He has taught biology, ecology, and 
ornithology
 in both New Hampshire and Maine. 
Chris has lived off the electrical grid at RAVEN's base since 1998.  The energy efficient structure uses passive solar, wind, solar PV, super-insulation and high tech smart home technology for a sustainable and efficient evolving high performing home and business.   Chris shares his green home insights in many programs.
As a nature photographer and licensed 
master bird-bander
, he continues avian research. 
Member, Maine Professional Guides Association; Member, Tin Mountain Conservation Center.  Chris has appeared on several radio and television programs, including Animal Planet's 
The Most Extreme 
series, Maine Public Television's Quest nature series and ABC's Good Morning America.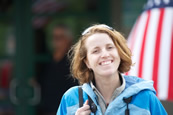 Carolyn Myers Lewey
Carolyn Myers Lewey is a science teacher and co-founder of the Maine Environmental Science Academy (MESA) at Molly Ockett Middle School in Fryeburg, Maine. She has a BS in Education from University of Delaware, a Masters degree in Special Education from West Chester University and has over a decade of science teaching experience. In 2012, Carolyn was selected as a STEM (science, technology, engineering and math) leader in the Maine Governor's Academy for STEM Leadership where she continues to develop and enhance current techniques for expanding STEM opportunities. Carolyn is certified in Wilderness First Aid and CPR.
Carolyn is a longtime resident of the Mt Washington Valley. When Carolyn is not spending time in the Science classroom, she is spending quality time with her three young children.
Carolyn is at home in the mountains or on the coast and her enthusiasm for her surroundings comes across so naturally in her interactions with children, as well as adult learners!
Raven Interpretive Programs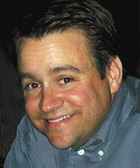 David Lewey
David Lewey works with RAVEN on a number of trips and projects in several different capacities. David draws from over twenty years experience in the tour business. As a guide and consultant for RAVEN, David brings to all his travel work a sensitivity to guests' needs and an efficiency of making things run smoothly. After learning the ropes in New England, David expanded his range to lead groups all over the world for the better part of 20 years.
Raven Interpretive Programs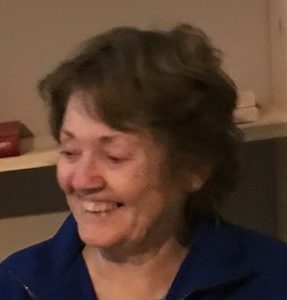 Diane Lewey
Former Operations Supervisor
Diane Lewey was the RAVEN Operations Supervisor from April of 2007 until her retirement in 2022. Diane's primary job for RAVEN Interpretive Programs was to see that all programs went smoothly, a role that she completely enjoyed.
Raven Interpretive Programs

Bob Bittenbender
Bob Bittenbender, a graduate of the National Outdoor Leadership School (NOLS), has been connected with RAVEN for many years. Bob is the Assistant Property Manager of Maine Audubon's 65-acre Gilsland Farm Sanctuary in Falmouth that consists of more than two miles of trails, pond, woods, meadows, orchard and salt marsh habitats. He has his finger on the pulse of the changing seasons of the natural world of coastal Maine. Bob's extensive knowledge of native and cultivated plants extends from his thirty years of experience as a nursery person in Maine.
Bob along with his wife, Margi, produced and hosted a popular radio show on gardening in northern New England.
He has developed and taught numerous educational programs, orienteering courses, ornithology classes and natural-history field trips. Bob has traveled extensively in all fifty states and more than fifteen countries where his insights into the natural world are always expanded and sharpened. He's an avid outdoor/nature photographer and lecturer and his more recent presentations include the Polar Bears of Churchill, Manitoba, Canada and the Lobsters of the Maine Coast.
Bob is currently on the board of the Oceanside Conservation Land Trust of Casco Bay and makes his home in Gray, Maine.
Raven Interpretive Programs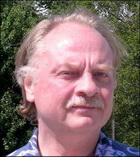 George Cleveland
George Cleveland has been guiding tour groups throughout the White Mountains for more than 20 years. An avid collector of tales and legends, George sniffs out new hauntings and reports of long lost treasure. He has frequently written for local publications on people and places of interest, including a North Conway birdwalk with David Allen Sibley. George has appeared before numerous historical and school groups in the eastern United States portraying his grandfather, former President Grover Cleveland. He was featured on C-SPAN's 'American Presidents' series when they broadcast from Cleveland's birthplace in Caldwell, New Jersey.
For many years, George was known as The Voice of the Valley on Conway radio. He conducted over 3500 interviews with newsmakers from all parts of the world. George has spoken with most major Presidential candidates, a representative of an interplanetary confederation and many noted authors and musicians.
He co-hosted one of the QVC Network's first on-the-road broadcasts live from North Conway Village featuring New England made products. He has joined RAVEN for adventures chasing snow geese in Quebec and puffins and migrants on Monhegan Island.
George lives in Tamworth, NH where he has been Town Moderator for over 25 years. He is the Executive Director of the Gibson Center for Senior Services in North Conway, assists many non profits with fundraising and serves on several boards.
Raven Interpretive Programs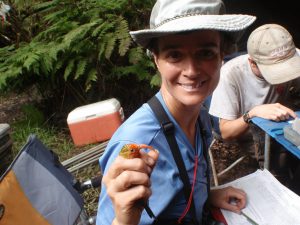 Lisa 'Cali' Crampton
Lisa is a welcomed addition to RAVEN's line-up of presenters. Lisa has a Ph.D. in Ecology, Evolution and Conservation Biology, University of Nevada Reno, 2004.
18 years of experience developing, coordinating, conducting, and delivering projects in multi-stakeholder adaptive management programs, e.g., the Kauai Forest Bird Recovery Project, Mesquite-Acacia Conservation Management Strategy, and Comprehensive Science Plan for the Lake Tahoe Basin.
Raven Interpretive Programs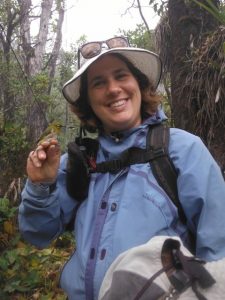 Julia Diegmann
Julia brings a wealth of knowledge to RAVEN Interpretive Programs. Julia's scientific research services in Hawaii offers assistance with all phases of scientific research proposals, scientific outreach and proposal preparation. Most notably, Julia co-authored a publication on the research of the Puaiohi, an endangered Hawaiian thrush.
Raven Interpretive Programs

Dr. Richard Eakin
Richard is a retired college biology professor with a 30-year academic career at Westbrook College (Portland, ME) and the University of New England (Biddeford, ME). Rich earned his Ph.D. in zoology from the University of Maine, and for over 40 years his research has focused on the biodiversity and taxonomy of Antarctic fishes. Rich has birded from the Gulf of Maine to the Antarctic and has been a National Audubon Society tour leader to the Amazon. His research interests lie in the area of ornithology, ichthyology, and ecology. Rich led field trips for the Maine Audubon Society for many years and taught bird courses for Elderhostel, College of the Atlantic, Institute for Field Ornithology, and at the Audubon Camp on Hog Island.
Raven Interpretive Programs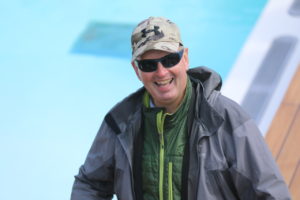 David Govatski
David Govatski has a degree in Forestry and worked for over 30 years with the US Forest Service in a variety of locations and positions. He served for many years as a Fire Management Officer including several years on a National Interagency Incident Management Team on large forest fires and other disasters. David also served as a Silviculturist and maintains a strong interest in forest management and policy. He co-authored Forests for the People: The Story of America's Eastern National Forests and has written numerous articles on forest history.
David is a trip leader and speaker who combines natural and cultural history in his programs. He is President of the Friends of Pondicherry and in 2012 was named Volunteer of the Year for the National Wildlife Refuge System. He received an Environmental Merit Award from the Environmental Protection Agency for wetlands protection. Other volunteer activities include Chairman of the Jefferson Conservation Commission, membership on the NH State Parks Advisory Commission and the Museum of the White Mountains. He is a member of the Natural Areas Association and has a strong interest in protecting natural areas. He is an avid birder and botanist and frequent traveler to natural areas across North America. He is a Master Leave No Trace educator and serves as an AMC Hut Naturalist. David lives in the northern White Mountains with his wife and they enjoy hiking, canoeing and Nordic skiing.
Raven Interpretive Programs

Wink Lees
Wink Lees is a native of the Mt. Washington Valley whose environmental interests were borne out of early childhood ramblings through forests and fields and along drainages surrounding his home neighborhood of Kearsarge, NH. While attending college, he worked several summers for the US Forest Service in varying capacities in the Saco District of the White Mountain National Forest and later worked on the Little Missouri National Grasslands of the Custer National Forest in North Dakota. Over the past 20 years, Wink's primary emphasis and profession has been centered on a garden and landscape design and installation partnership called Floribunda. During his involvement with landscaping, Wink became increasingly interested in natural landscape design, native plants, and land conservation leading him to complete a Masters Degree in Environmental Studies at Antioch New England.
Wink continues his affiliation with Antioch as an adjunct instructor for various courses in New England flora including native ferns and alpine flora. In addition to his work with RAVEN Interpretive Programs, Wink is the Conservation Easement Coordinator with the Upper Saco Valley Land Trust and has been employed with the New Hampshire Chapter of The Nature Conservancy as the Northern Reserves Stewardship Assistant. Wink is also a Plant Conservation Volunteer with the New England Wildflower Society and for several years recently served as a member of the Jackson, NH Conservation Commission.
Raven Interpretive Programs

Paul Lindahl
Paul Lindahl, a New Hampshire resident for over twenty years, has a BA in Earth Science from the University of Southern Maine. When Paul isn't giving presentations for RAVEN, he is the Camp Director for Family and Adult Programs at Camp Calumet in Ossipee, NH. This year-round Lutheran Camp and Conference Center borders Ossipee Lake at the southern-end of the White Mountains. Paul has developed many opportunities for guests of all ages at the camp to learn more about the natural world.
He directs week-long environmental education camp programs for school-aged children, he developed a self-guided nature trail for guests to explore the woods and natural features of Calumet's 180 acres, develops weekly summer programs by visiting naturalists for guests, and has led countless nature walks for guests of all ages. Paul is an avid downhill skier in winter and a sailing enthusiast in the summer. His familiarity with the area along with his Earth Science background gives Paul the necessary tools for lively, interesting presentations as he shares some wonderful insights into the area.
Raven Interpretive Programs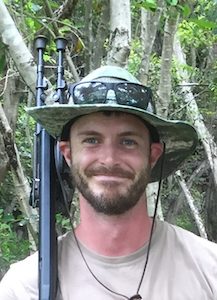 Kyle Pias
Kyle had joined the RAVEN team in 2017 and his presentations were always enthusiastically received by tour guests.
Kyle earned his BS in Environmental Science from Trinity College in 2007 and his MS in Wildlife Ecology and Conservation from the University of Florida in 2012. His master's work focused on the foraging ecology of the endangered snail kite in Florida. He has worked on a large variety of research projects focused on avian conservation, ranging from crested caracaras to island scrub jays to Australian rainforest bird communities.
Kyle worked for two years as the field supervisor for the Kaua'i Forest Bird Recovery Project, which focused on the conservation of the critically endangered 'Akikiki, 'Akeke'e, and Puaiohi before starting as the coordinator for the Hono o Nā Pali Seabird Mitigation Project in 2015.
His current work focuses on protecting colonies of Newell's Shearwaters and Hawaiian Petrels.
Raven Interpretive Programs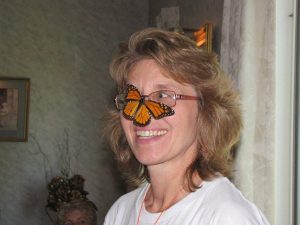 Lisa Proulx
Lisa is proud to have followed in the footsteps of her naturalist mother, Gini Proulx, a former member of the RAVEN team. Lisa's quiet, lakeside home in rural Nova Scotia provides her with limitless opportunities to observe and photograph wildlife on a daily basis. Her wildlife photography has gained local recognition and she has created her own line of greeting cards and fridge magnets using her wildlife images. Lisa has been involved with the Annapolis County Recreation's Women's Canoeing and Camping Weekends, both as a participant and a facilitator. Being an avid birdwatcher, she has participated in the Maritime Breeding Bird Atlas and the yearly Mersey Tobeatic Research Institute Loon Watch.
She is also a butterfly enthusiast involved with the Monarch Teacher's Network. She recently retired from a 27-year career as an Educational Assistant which allowed her to share her passion for nature and gardening with elementary students, teachers and parents. The success of their Butterfly Garden in attracting the Endangered Monarch Butterfly has resulted in many speaking engagements for both Lisa and her students.
This and the school's organic vegetable gardens are hands-on learning experiences the students will never forget!
Her latest passion is rock hounding on the many Bay of Fundy beaches for semiprecious stones such as agate and jasper. Using a rock tumbler, she creates beautiful polished gems which she turns into one of a kind jewelry. This has also led to an insatiable curiosity about the geology of Nova Scotia, wanting to learn about the geologic forces which created such beautiful rocks.
Lisa has been interpreting RAVEN wildlife presentations at the Pines Resort Hotel in Digby, Nova Scotia since 2003 and is excited to be presenting the current slideshow of her own wildlife photographs.
Raven Interpretive Programs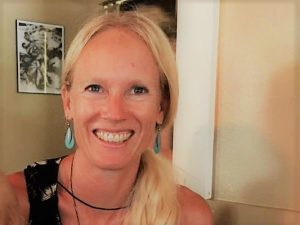 Helen Raine
Helen Raine is a writer and conservationist living in Kauai. Helen joined the RAVEN team over a year ago and has brought a wealth of information to tour guests. She has an MSc in Conservation and has undertaken fieldwork in England, Malta, Peru, Zambia and Hawaii, often living for months in a tent.
She has worked as a Conservation Officer for Natural England UK and a Project Manager for the EU LIFE Yelkouan Shearwater Project with BirdLife Malta. At present, she is helping Kauai Forest Bird Recovery Project with their research work.
As a freelance journalist, she focuses on the environment, but has also published hundreds of travel articles on adventure destinations for inflight magazines and travel supplements, as well as writing for Pink, a women's magazine. She is the author of a series of wildlife guide books – Bermuda's Top 10 and Malta's Top 10 are already on sale, while Kauai's Top 10; A Guide to the Island's Wildlife is in production.
Kauai has proven to be the perfect place for her and husband Andre to introduce island wildlife to their two kids, Callum and Maya.
Raven Interpretive Programs
Kersti Tacreiter
RAVEN welcomes Kersti! Kersti loves to explore! She seeks out adventure at every turn and readily dons her hiking boots, life jacket, skis, and sometimes even stilts, to pursue natural and cultural wonders across the continents. An actor by training, she has lived and trained in tiny Italian villages, high in the hills of Umbria and Campania, performed under the stars in southern New Jersey farmland and amidst the concrete of Manhattan's East Village, summoned crowds in Kraków's cobble streets and brought stories to life across Canada.
Kersti is drawn to the mountains and the sea and feels most at home where the two brush shoulders. Perhaps for this reason, she keeps returning, like the gannets, leatherback sea turtles and humpback whales, to a tiny place on northern Cape Breton's Atlantic coast, called Ingonish.
Since age 3, Kersti has spent her summers at her family inn in Ingonish, exploring the wonders of the Cape Breton Highlands National Park. She loved exploring the park so much, that in 1995 she found herself a seasonal job there, first in visitor services and for the past decade, as a park interpreter.
While her theatre work is on hold as Kersti raises her three young explorers, adventure is never far (she's even been known to pick up the family and move to the Beskid Mountains for a year, or leave the kids with Daddy and take a few weeks to walk Ireland's magnificent Kerry Way), and she continues to share stories, encourage audiences of all ages and walks of life to connect with nature, and delight in the wonders of the world around her.
Raven Interpretive Programs

David Thurlow
David Thurlow has a degree in meteorology and has worked for several years as an outreach educator and outdoor trip leader.
His interest in the atmosphere and the environment has brought him from the top of Mount Washington to Antarctica. He has eighteen years of experience in informal science education, focusing on media, museum exhibit design, informal education, and natural history interpretation.
He was the creator and long-time writer and host for "The Weather Notebook" radio program.
When not helping out on RAVEN programs, Dave works for the Vermont Earth Institute, advocating for individuals to leave a smaller "footprint" on the local and global environment.
Raven Interpretive Programs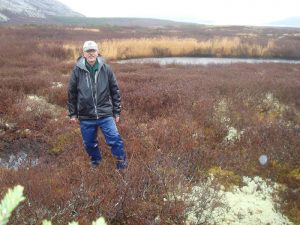 Greg Turner
A lifelong resident of the Digby area of Nova Scotia, Greg retired after 31 years as a biology, chemistry and environmental studies educator at Digby Regional High School. Greg now dabbles in photography, birding, hiking and discovering new things about the flora and fauna of Nova Scotia. He also spends time on the soccer field as a referee and referee mentor. Greg and his wife Elaine enjoy walking, relaxing with nature and visiting their two grown daughters often.
Leading people to discover the features of this amazing area is a natural extension of a passion Greg has for nature, history and culture.
Raven Interpretive Programs
Ron Wolanin
Ronald Wolanin, Interpreter, has a M.S. Degree in environmental studies and worked for the Massachusetts Audubon Society. Ron is noted for not only his ecological knowledge, but for his keen awareness of the subtleties of nature. His areas of expertise include wildflowers, woody plants, insects, and birds.
Raven Interpretive Programs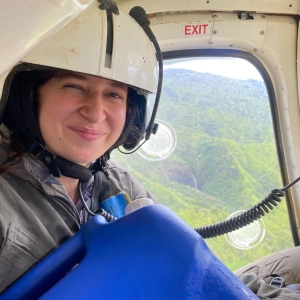 Tlell Wolf
Tlell came to RAVEN in 2021 to help tell Hawaii's beautiful stories of its natural beauty including the wildlife, the flora and the fauna.
Tlell was born and raised in central Oregon and researched the beautiful Oregon Spotted Frog while in high school. For her senior year of high school, she received a full scholarship from the Department of State to be an exchange student in Turkey. She graduated with a B.S. in Biology in 2020 from Portland State University.
Before coming to Kaua'i, she worked in Washington hunting invasive bullfrogs. She is now working on the INFRASTRUCTURE MONITORING & MINIMIZATION PROJECT at Archipelago Research and Conservation.
She enjoys reading, hiking, baking pies, and painting.
Raven Interpretive Programs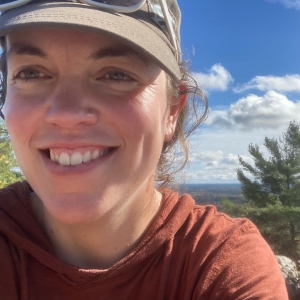 Katie Wood
Katie is one of RAVEN's newest members in 2021. Katie grew up wandering the woods of Northern Ontario with her dog. She learned to observe and absorb everything she could about the flora and fauna. A lifelong passion for the ocean brought her to the East Coast to study marine biology, after which she settled quite comfortably into a career with Parks Canada — she and Kersti have been interpretation colleagues at Cape Breton Highlands National Park since 2013. Katie now spends her time wandering the woods of Cape Breton with her dog.
Raven Interpretive Programs