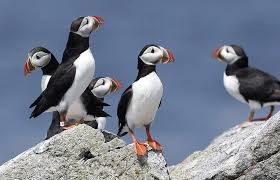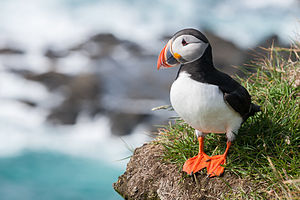 RAVEN Interpretive Programs with Chris Lewey
Thursday June 27th, 2019 11:30AM
From New Harbor, Maine aboard the Hardy Boat
We continue to have great trips each June and hope you will join us for another adventure on the Maine Coast! Last year after a postponement of a day we got out on the Bay and had an easy time of seeing lots of birds… we'll hope for fair seas this year and hopefully those that couldn't make it last year will be first onboard this year! This adventure always fills so if you have an interest you should register early.
We are in winter's grip here and spring seems like a long way off… nice to be thinking way ahead to warmer and longer days! June will again provide us with puffins for our annual adventure on the Hardy Boat. The Atlantic Puffins are out on the rough North Atlantic as we speak and I'm sure they too are thinking about the 2019 nesting season and winging their way back to Eastern Egg Rock for a busy season there in Muscongus Bay and hoping to catch a glimpse of US this coming June!
Boat departs at 11:30AM sharp … cruise to Eastern Egg Rock, the southernmost nesting colony of Atlantic Puffins. There are about 150 nesting pairs of Atlantic Puffins on EER. New Harbor is about 1.5 hours north of Portland. Cruise is about 1.5 hours and sometimes goes a bit longer… we should expect to return to the dock before 1:30PM.
New Harbor is only 5 miles from Eastern Egg Rock making it the closest, easiest and most convenient way to see these fascinating birds. You spend less time traveling and more time with the birds. On the way to EER you will see Pemaquid Point Lighthouse, Franklin Island Lighthouse, Monhegan Island, the islands of Muscongus Bay and a spectacular view of the Camden Hills.
The boat circles EER at a distance of 40 – 150 feet from the rocky shoreline. Puffins are frequently sighted on the water and often seen 25 – 30 feet from the boat. There are several other species of birds to also see on this cruise and we'll attempt to get good looks at all of them, including: Common and Arctic Terns, the endangered Roseate Tern, Black Guillemot, Common Eider, Double-crested Cormorants (and occasionally Great Cormorants), Herring Gull, Greater Black-Backed Gull, and Laughing Gull. Occasional sightings from the Hardy Boat include: Surf Scoter, Razorbill (frequently seen in May and June), Purple Sandpipers, Ruddy Turnstone, and Northern Gannet.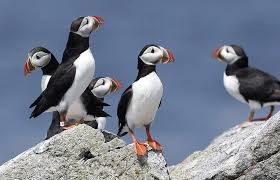 The migratory seabird colony on Egg Rock is protected during the breeding and nesting season. No people, other than Project Puffin biologists, are allowed on the Island. The boat will circle the island for about 30 minutes. The upper deck provides for a 360o view providing great birding experiences. The lower deck is protected from the sun and weather and has two heads available for guests. The galley has hot and cold beverages and healthy snacks that are available throughout the cruise.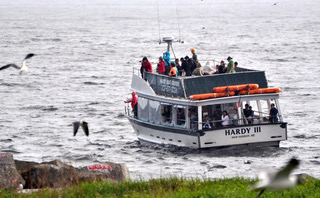 We have used the Hardy III for years and have always had a great experience working with the great crew on this wonderful Maine Coast adventure.
• Cost of the trip is $39 per person ($32 children 12 and under) from New Harbor and we will have the boat to ourselves as this is a RAVEN charter.
• TO REGISTER: Email your Name and number of people to register to [email protected] … we will notify you with payment options and provide further details including joining instructions, directions and what to bring along with a list of local accommodations for those wishing to spend an overnight in the area.
As a sneak preview of what we anticipate seeing on this exciting adventure, watch this YouTube presentation:
Atlantic Puffins – Return of the Native
Please send this on to anyone who you think may have an interest in joining us. Let me know if you have any questions and we'll get right back to you.
Good Birding! Chris
https://www.ravenprograms.com/wp-content/uploads/2019/02/image-2.png
180
280
ravenprograms
https://www.ravenprograms.com/wp-content/uploads/2018/04/RAVEN-Logo-jpg.jpg
ravenprograms
2019-02-23 13:37:59
2019-02-23 13:53:03
Puffin 2019