RAVEN'S Tanzania: Migration Safari for February 2019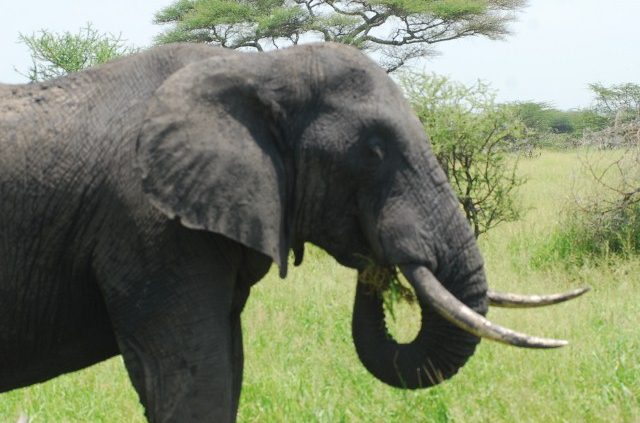 Finally!   We are launching RAVEN's Tanzania: Migration Safari for February 2019!
I have been working with close friends and owners of Aurora Africa, an in-country travel company and we have just completed the details of this amazing safari!   It's such security having someone there on the ground to deal with all the big pieces and the small details of such an enormous undertaking.  Much work has gone into the preparations already and I'm confident we'll have another great experience.
It will be high season in Tanzania and we have held out for and finally secured lodging that I was hoping we would be able to get.  Presently we have space finally secured!  The high season is the best time of the year to be there and the space is limited at our chosen sites.   So…  if you know of anyone that might have an interest, possibly you could pass this along as we will have to move quickly before releasing space.  I am also happy to say that we have secured my requested guides that we have used in the past that will make such a difference in the overall experience there.
I have looked closely at all the numbers and it is easy to see that this is a great value…. Many other offered safaris out there are much more expensive and do not include all that we've been able to include here and are often for fewer nights in-country.   As you can see below just about everything is included.  The park fees alone are  $1150 (included). Also, depending upon our total numbers, I believe we will be able to have no more than four guests per vehicle…. I have seen some operations that have 7-8 guests in a vehicle and this of course changes the viewing opportunities and overall experience of the trip.  These details often overlooked can completely shape the experience.
Please let me know if you have any questions.  If you have an interest in learning more about this adventure and how to register, I will get right back to you.  We can talk further details with those interested, but I wanted to get this itinerary right out.  This will be an amazing adventure in East Africa!
All the best,  Chris
RAVEN Interpretive Programs 
Tanzania Migration Safari with Aurora Africa 
– February 2019 –
13-DAY (in country!) Wildlife Safari
Leader- Chris Lewey
February 16th – February 28th, 2019
$6595 PER PERSON, DOUBLE OCCUPANCY
Single Supplement:  $800
RAVEN's journey to Tanzania will embrace the beauty of the annual migration.  In addition to the great herds of wildebeests and zebras, the warm winds of East Africa welcome migratory birds from distant locales.
Included:
Double or Twin accommodation in all lodges/camps
Expert safari guides
Private transportation in 4×4 customized safari vehicles
Game drives and activities as outlined in itinerary
Meals as indicated:  B= Breakfast L=Lunch D=Dinner
All airport transfers in Northern Tanzania
All taxes and service charges
Welcome Kit – including journal with checklists.
Water at meals and during game drives.
Temporary membership in Flying Doctors (AMREF)- emergency medical evacuation to a Nairobi hospital
Gratuities for lodge and camp staff.
All park and concession fees. **
Not included:
International airfare
Travel Protection Plan (required)
Fees for passports, visas and immunizations
      (passports must be valid 6 months after your departure from Tanzania)
US and foreign airport departure taxes
Trip cancellation or medical insurance of any type
Personal expenses such as laundry, spa treatments, beverages, phone calls, etc.
Gratuities for safari guides
 Optional Balloon Ride in Central or Southern Serengeti (approximately US$560 per person)
Day 1 – February 16th ~ Arrive Kilimanjaro International Airport (JRO)
Most flights arrive Kilimanjaro in the evening.  A RAVEN/Aurora Africa representative will greet you after you clear immigration and baggage claim. The drive to Ilboru Safari Lodge from the airport is about 1½ hours.
*If you would like to arrive a day or two early to rest before the safari, Ilboru Safari Lodge is a wonderful place to relax. Enjoy some of the various activities available including walking tours, swimming, and cooking classes.  Pre-stay can easily be arranged.
Overnight – Ilboru Safari Lodge ~ BLD
https://annelie3.wixsite.com/isl2015
Day 2 – February 17th ~ Arusha National Park
This morning you will depart from the lodge for a drive in Arusha National Park.  This park lies in the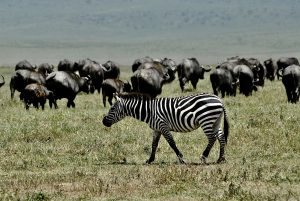 shadow of Mt. Meru (15,068 feet), Tanzania's second highest peak.  The vegetation includes dense forest, open plains, soda lakes, and swamps giving the opportunity to view many different mammals and bird species.  It is home to elephants, giraffes, buffalo, warthogs, and zebras to name a few.  This is the best chance on the tour to see the rare black and white colobus monkeys.  You will have a picnic lunch in the park.
Overnight – Ilboru Safari Lodge ~ BLD
Days 3 & 4 – February 18th and 19th  ~ Tarangire National Park
This morning you will depart the lodge after breakfast and pass through Arusha on your way to Tarangire National Park. The drive to Tarangire from Arusha takes about 3 hours. Tarangire National Park comes alive in the dry season, and you may spend your days exploring the acacia covered woodlands and grass-filled swamps of the park.  This diverse park is home to giraffe, impala, buffalo, lion, the elusive leopard and thousands of elephants. After processing paperwork at the gate begin your wildlife and wilderness experience with a short drive. The lodge is located overlooking the Tarangire River with incredible views over the park. It's possible to view wildlife right from the viewing patio at the lodge!
Overnight – Tarangire Safari Lodge ~ BLD
http://www.tarangiresafarilodge.com
Day 5 – February 20th ~ Lake Manyara National Park
Today you depart after breakfast with a picnic lunch for Lake Manyara National Park, a beautiful park with a variety of eco-systems. There is a ground water forest, soda lake and dry savannah area to name a few. The park hosts a healthy elephant population along with giraffe, baboon, several species of monkeys and a myriad of birds. After lunch leave the park and arrive at Isoitok where an authentic Maasai experience awaits.
Overnight – Isoitok Camp Manyara  ~ BLD
Day 6 – February 21st ~ Maasai Village/ Gibb's Farm
This morning you have the opportunity to visit an authentic Maasai village and observe the morning activities. Depart the camp late morning and climb up the escarpment of the Great Rift Valley, and into the Ngorongoro Highlands. Enjoy lunch at the delightful Gibb's Farm.  After lunch, hike into the Ngorongoro Forest or meander around the farm enjoying the various gardens and farm animals. This afternoon you'll head down to Karatu to check-in to your lodge.
Overnight – Country Lodge ~ BLD
http://www.countrylodgekaratu.com
Days 7 & 8 – February 22nd and 23rd ~ Travel day to Serengeti National Park
Today is a long travel day full of stunning landscapes. This morning you'll travel around the Western Rim of the crater before arriving in the Southern Serengeti. Enjoy a stop at the interesting and informative museum at Oldupai Gorge. The gorge is the site of years of research into the anthropology of early man by the famous Leakey family and prominent universities. This museum is set up on the site of archaeological digs taking place through out this and the last century. Along the way, there's a possibility to see some of the migratory herds on the plains.
Once inside the park you'll begin your exploration of the rivers, rocks and plains of the Central Serengeti, one of the most stunning wildlife sanctuaries on the planet, stopping for a picnic on the way. This vast savannah hosts the world's largest surviving concentration of plains game. In addition to the short grass plains there are beautiful rocky out-cropping called kopjes (pronounced copies) and thousands of acres of bush and acacia woodland. The Seronera area has permanent water and therefore is an excellent area to spot the big cats.
Overnight – ThornTree Camp ~ BLD
Days 9 & 10 – February 24th and 25th ~ Ndutu Area/ Southern Serengeti
The game-filled plains in Ndutu, home of many famous wildlife filmmakers and photographers, are a wildlife lover and bird enthusiast's dream. One of the largest migrations on the planet takes place in the Greater Serengeti Ecosystem; annually the migration of wildebeest and zebra find their way to the Ndutu area between December and May. The herds travel over the vast area always on the search of the sweet new grass. The smell of rain even miles away will cause the herds to move in that direction. The resident wildlife includes giraffe, cheetah, lion, elephant, various species of antelope and exciting smaller cats such as the caracal. Striped hyena is seen regularly.  You'll spend the days exploring the varied eco-systems; there are the marshes and a soda lake, acacia woodland and short grass plains.
Overnight – Nasikia Mobile Migration Camp ~ BLD
http://www.nasikiacamps.com/camps-&-lodges/nasikia-mobile-migration-camp-ndutu-ncaa.html
 Day 11 – February 26th ~ Ndutu Area & Travel back to Karatu
Enjoy another morning of game driving in Ndutu before climbing back up through the Ngorongoro Highlands and down to Karatu for a two-night stay at the beautiful Plantation Lodge.
Overnight – Plantation Lodge ~ BLD
http://www.plantation-lodge.com
Day 12 – February 27th ~ Ngorongoro Crater
Today you'll rise early to spend your day in the Ngorongoro Crater, home to over 25,000 animals. From the lodge to the floor of the crater will take about 1.5 – 2 hours depending on processing time at the gate. This "8th Wonder of the World" leaves visitors in absolute awe. Its stunning landscape and great array of species make this a highlight of any safari. The crater is home to all of the larger African mammals with the exception of giraffe (they can't cope with the steep descent). Here is one of the few remaining places it's possible to encounter the highly endangered black rhino.
It is also possible to see elephant (mostly lone or "bachelor" bulls), contented prides of lion, hippo, a resident herd of wildebeest, zebra, various gazelles, baboon and much more.  After your picnic in the crater (watch out for the kites!) you'll ascend and return to Karatu for the night.
Overnight – Plantation Lodge ~ BLD
Day 13 – February 28th ~ Arusha and your international flight
Enjoy a morning at leisure including breakfast and lunch at the lodge before your mid-afternoon transfer to Kilimanjaro International Airport.
~ BL
~ End of Services ~
**Unforeseen changes in costs of park fees, taxes or flights will be the responsibility of the travellers**
https://www.ravenprograms.com/wp-content/uploads/2018/04/DSC_0001-640x428.jpg
428
640
ravenprograms
https://www.ravenprograms.com/wp-content/uploads/2018/04/RAVEN-Logo-jpg.jpg
ravenprograms
2018-04-30 15:55:15
2018-04-30 15:55:15
RAVEN'S Tanzania: Migration Safari for February 2019